R-CCC Alumnus Selected as North Carolina Teaching Fellow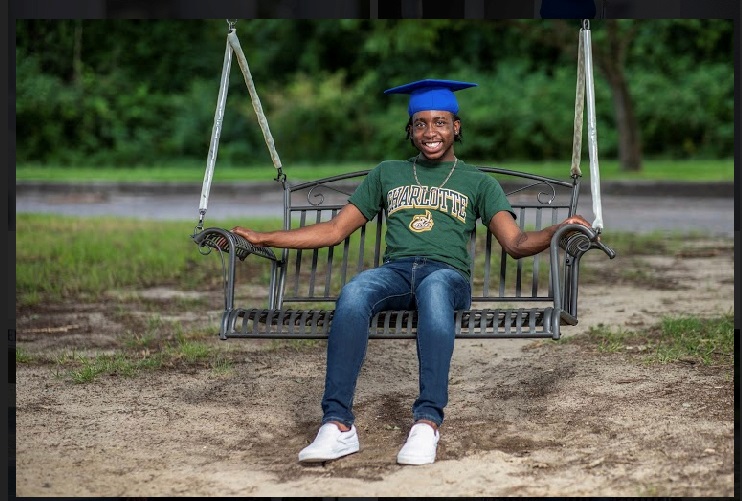 R-CCC Alumnus Selected as North Carolina Teaching Fellow
Ra'Quan Leary, a 2020 graduate of Roanoke-Chowan Community College (R-CCC) and the Hertford County Early College High School (HCECHS) was recently selected as a North Carolina Teaching Fellow. He joins 118 others in the 2021 class. Those named as Fellows may attend any of the program's five partner institutions: University of North Carolina at Chapel Hill, University of North Carolina at Charlotte, North Carolina State University, Elon University or Meredith College. Leary is completing his first year at the University of North Carolina at Charlotte with a major in Middle-Grade Education with a concentration in Mathematics and Science.
His journey to being selected is an example of his determination and commitment to his community. "When I was selected as an N.C Teaching Fellow, it was a dream come true! I originally applied in my senior year of high school, and I received a deferral. Another opportunity to apply presented itself, so I took it. I was nervous, scared, yet optimistic because I was given the opportunity, and I had to take it. The Fellows program aided in my significant goal of giving back to Hertford County's community that invested so much in me," said Leary.
His enrollment at HCECHS also meant he was dually enrolled at R-CCC, which allowed him to obtain college credit and work toward an associate degree. Leary earned both an Associates in Art and an Associate in Science and a Certificate in Business Administration Foundation and a Certificate in Business Administration Basic from R-CCC.
"Roanoke-Chowan Community College helped me jumpstart my success at UNC-Charlotte. They helped me get a feel of what college was like, while also giving me the tools necessary to succeed. They helped me grow my leadership, communication, and people skills. I am forever grateful for Roanoke-Chowan Community College and Hertford County Early College," Leary added.
As a student at the Early College, he was Student Government Association President and a member of Future Business Leaders of America. He also served as president of Phi Theta Kappa at R-CCC. Before graduating, he was nominated by R-CCC for the Governor Robert W. Scott Student Leadership Award and was selected as a regional finalist.
His advice to other students, "No matter where you come from, everything is possible through hard work and dedication. If I can do it, I know you can, too. Don't just wake up from your dreams, chase them and achieve them."
For more information on the North Carolina Teaching Fellows 2021 class, visit https://www.northcarolina.edu/news/north-carolina-teaching-fellows-announced/.