Roanoke-Chowan Community College offers campus care food pantry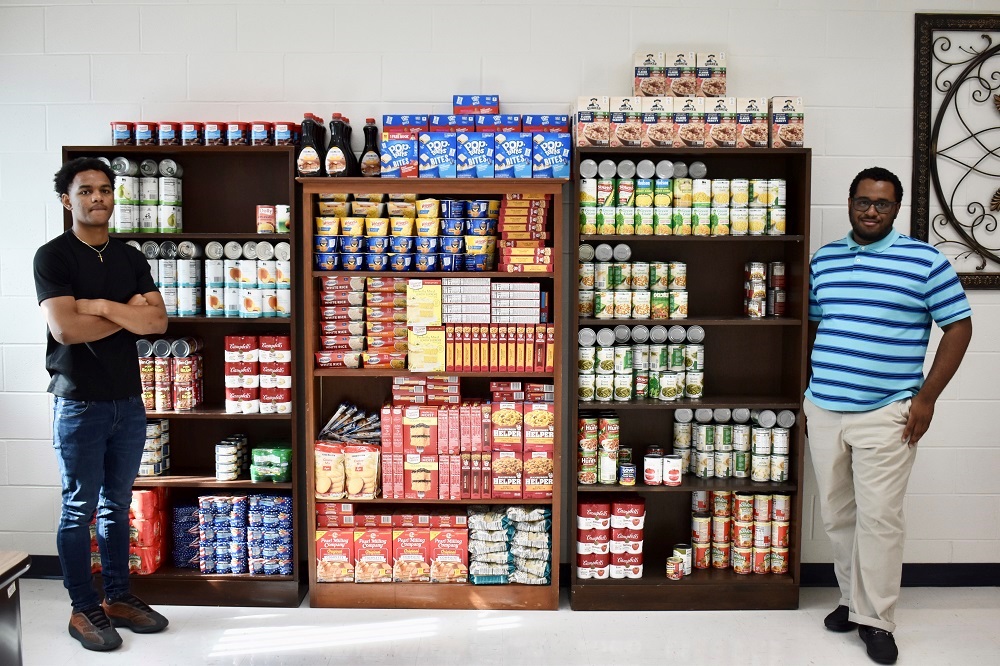 (AHOSKIE) Student workers on campus at Roanoke-Chowan Community College for the summer transformed a space into a new Waves Care Food Pantry.
A campus-based initiative, the Waves Care Food Pantry is open to R-CCC students, as well as faculty and staff at the college.
"With the help of our student workers, we are relaunching the food pantry at R-CCC," states Dr. Jami Woods, Vice President for Instruction and Student Services. "The student workers played a key role in re-designing the food pantry for ease of use and visual appeal, determining products for purchase, and maximizing the budget. We want students dealing with food insecurity to know about this resource. The students' contribution to the revitalized WAVES Care Food Pantry is a nice merger of student learning and college service that will benefit the broader campus community."
Two student workers collaborated to make the food pantry more organized, as well as customer friendly, and a welcoming place to provide service.
"I believe we should always act as if what you do will make a difference," states Aren Kimbrough Buffaloe, a junior at A&T University working as a summer student worker at R-CCC. "That's what we did. Lend a hand, give a can. That's how to think."
Buffaloe, who is studying architectural engineering, created a drawing of the area and designed the layout.
Breylin J. Dudley, a freshman at Elizabeth City State University, is studying sports management. He researched and conducted product analysis for the pantry. Utilizing comparative shopping data, he developed a plan to obtain large quantities of merchandise without over-budgeting. "If you can't feed a hundred people, then at least try to feed one," states Dudley. "The act of giving changes you for the better."
The Waves Care Food Pantry is staffed Monday, Wednesday, and Friday from 10 am – 12 noon and available by appointment.
"We are so proud of the efforts of the outstanding R-CCC student workers on campus this summer," states Dr. Tanya Oliver, Associate Vice President for Student Services at R-CCC. "This is a demonstration of the dedication of our student workers to collaborate and improve our campus and the services we provide for our students. The WAVES Care Food Pantry is an important service that we offer to those in need, and I encourage students, faculty, and staff to utilize these services if needed."
The food pantry at R-CCC is only available to college students, faculty, and staff. Those experiencing food insecurities may complete a request form and submit to the Student Services Division.
For more information about the Waves Care Food Pantry, contact the R-CCC Student Services Division at 252-862-1200.
Visit www.roanokechowan.edu to learn more about R-CCC. R-CCC Where Community and Careers Connect #DiscoverRCCC
Roanoke-Chowan Community College, a member of the North Carolina Community College System and located in Hertford County, is a public, two-year institution of higher education offering associate degrees, diplomas, certificates, college and career readiness, and customized business and industry training in a variety of delivery modes promoting public service, transfer, and workforce development for a diverse student body, leading them to contribute to the vitality of an increasingly global community.