R-CCC Trustee Spotlight –Ronald J. Gatling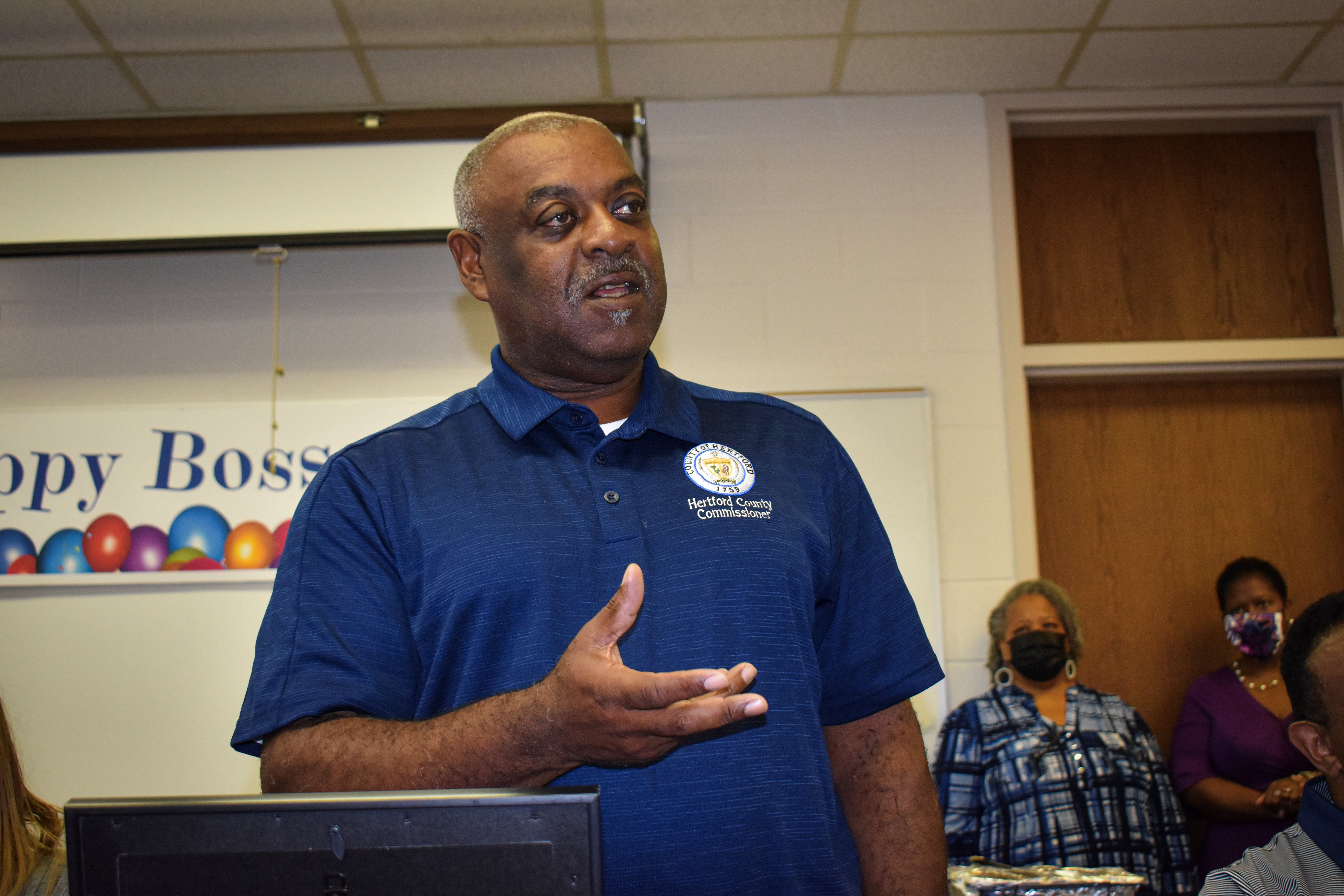 Media Contact
Diamond Smith
252.862.1243

R-CCC Trustee Spotlight – Ronald J. Gatling

(Seventh in a series of columns about the college trustees)

If you drive through Hertford County you may see the name Ronald J. Gatling on numerous buildings including the Ahoskie Police Station and the county's center for senior citizens, but behind every plaque on every building are the countless lives who have been touched or impacted in some way by this public servant for over 35 years.

Ronald Gatling grew up in Hertford County leaving only to go away for college at North Carolina Central University and work in Durham and Greensboro. When he returned home to Ahoskie, he accepted a position offered to him at Roanoke-Chowan Hospital before beginning his long career at Hertford County Public Schools that continues today, serving in several positions with the schools.

Inspired by his mother who told him to 'always try to make a difference,' he was elected to the Ahoskie Town Council in 1997 and served as 'mayor pro tempore' for seven years. He was elected as a county commissioner in Hertford County in 2011 and has served as a past chairperson of the board, leading many committees through the years.

"The best teamwork on a board or committee happens when everyone has a common goal," states Gatling. "I am most proud of the scholarship and internship programs we have implemented in the county, as well as the work we've done for the senior citizens of Hertford County."

"I have always wanted to give young people the opportunity to see the possibilities in life," explains Gatling. "In my work with the town council and the schools, I wanted youth to have the opportunities that I didn't have growing up. It makes me proud to see young people we have helped return to Ahoskie to work in our community."

He teaches young people that 'it is better to be prepared for an opportunity you don't have than be offered the opportunity and not be prepared'.


The leader has always inspired youth either through coaching, being a Cub Scout leader, or by chairing the Hertford County Recreation Committee. His efforts include county-wide youth events with hundreds of participants and implementing summer enrichment programs for children in Hertford County.

For his service, Trustee Gatling was awarded the Dr. Martin Luther King award by Hertford County Public Schools. In 2009, he was awarded the Order of the Long Leaf Pine by the Governor of North Carolina, one of the most prestigious awards given for service to the state.

Gatling was appointed to the Roanoke-Chowan Community College Board of Trustees in 2000 and has worked with several college presidents, serving as vice-chair and currently as chairperson of the board. He served on the selection committee to bring Dr. Murray J. Williams to R-CCC saying, "She is the right fit for our college and came here ready to work and lead us to success."

"R-CCC provides real opportunity for students to learn a skill or trade and get a job, but it also gives youth and adults a second chance and a way to change the trajectory of their lives," says the long-time trustee. "Hertford County is fortunate to have such an outstanding community college."

A member of Calvary Missionary Baptist Church in Ahoskie, where he serves as a Deacon, Gatling believes that 'family is everything'.

Married to Alecia Gatling for 28 years, they have eight children who have all attended college, except for one, who is still in high school. His children include Terrell, twins LaDonya & LaDonna, Grant, Jarrett, Orrin, Karissa, and Jordin. He is also the proud grandfather of Rhian, Karter, Kamron, and Kannon.

"My family is my foundation," he says. "They are my driving force, and I am proud of all of my children."

As a graduate of the University of North Carolina Governor's Academy of Professional Development in Chapel Hill which teaches community leaders to be agents of change, he often leads teamwork building and workshops for the community including the faculty and staff of R-CCC.

In his leadership presentations, Gatling stresses the importance of preparing for the future and he shares this vision with the board of trustees, faculty, and staff at R-CCC.

"We must be prepared for the future and for the success that is to come," concludes Gatling. "In my opening day remarks to faculty and staff I told them that we cannot do the same old thing anymore. We are changing the look at R-CCC for the future, and we must continue to be the best."

Throughout his life volunteering for public service whether on the town council, on local boards, and as a county commissioner, Gatling has been called to make a difference and to 'speak up' for others.

Speaking recently at the college's opening day ceremonies, Trustee Gatling said, "You can't put a price on what you are led to do for your community or your fellow citizens. It takes sacrifice, passion, and love for others. The rewards are the impact you make on your students and the ones you serve."

Members of the Roanoke-Chowan Community College Board of Trustees are appointed to the board by the Governor of North Carolina, the Hertford County Board of County Commissioners and Hertford County Board of Education.