Andre' Lassiter honored with Resolution as R-CCC Trustee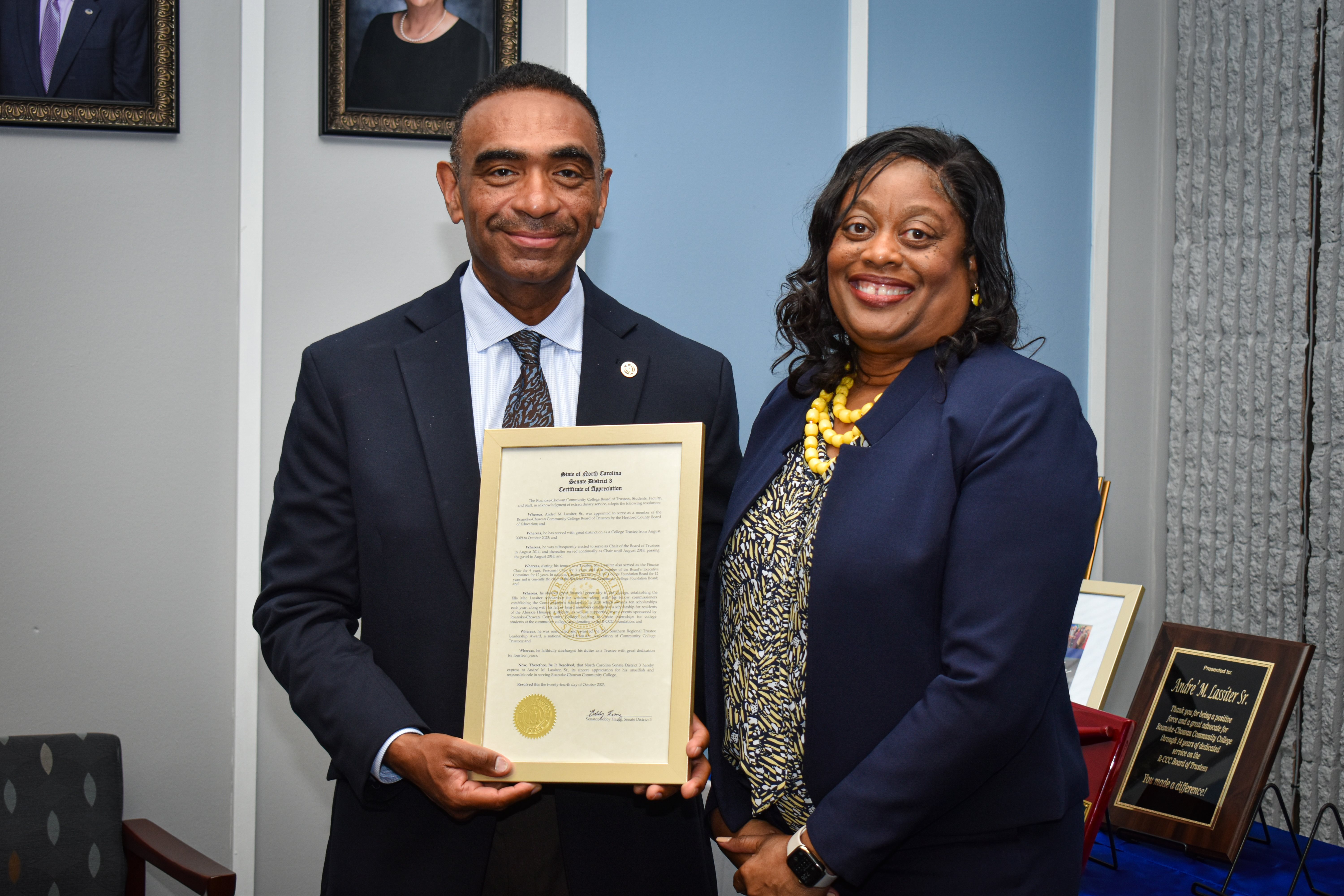 Andre' Lassiter honored with Resolution as R-CCC Trustee
Mr. Andre' Lassiter, from Ahoskie, was honored at the R-CCC Board of Trustees meeting on Tuesday, October 24th with a Resolution by the Roanoke-Chowan Community College Board of Trustees, Students, Faculty, and Staff, in acknowledgement of his 'extraordinary service'. The Resolution was presented by Mr. Ronald Gatling, R-CCC's Board Chair.
Dr. Murray J. Williams, President, presented a Resolution on behalf of Senator Bobby Hanig and stated, "Trustee Lassiter is deserving of this honor because of his commitment to serving our college. As a trustee he has been a catalyst for positive change and development. We are grateful to him for his vision and leadership. He leaves a 'footprint' of accomplishment and lasting impact on Roanoke-Chowan Community College."

Lassiter is stepping down as a trustee on the Roanoke-Chowan Community College Board of Trustees after, as the resolution states, "He has served with great distinction as a College Trustee from August 2009 to October 2023."
"I express my heartfelt gratitude for the opportunity to serve on the R-CCC Board of Trustees. This journey has been one of the most fulfilling experiences of my life." stated Lassiter. "R-CCC holds a special place in my heart; I am a product of this remarkable institution. My wife and children are products of R-CCC as well, and our family's connection to this college runs deep."

"The decision to step down from the board was bittersweet, as it has been an incredible honor to be part of R-CCC and to contribute to its growth and success. My belief in R-CCC's mission remains unwavering, and I am confident that the future holds great success for this institution."

"I look forward to witnessing its continued journey to excellence, and I will always be a proud supporter of this college and its important work. Thank you for the privilege of serving, and I eagerly anticipate the bright future ahead for R-CCC."

During his tenure on the board, he held many leadership positions including board chair for 4 years, finance chair for 5 years, personnel chair for 3 years, and as a member of the board's executive committee for 12 years.
Recently, Lassiter worked collaboratively with legislators to present the needs of the community college to the North Carolina General Assembly resulting in a 15M allocation to the college in this year's state budget to construct a new health science building.

In 2022, Lassiter was awarded the Association of Community College Trustees' Southern Regional Trustee Leadership Award for 'exemplifying outstanding leadership' while serving on a local community college board.

As a trustee for the college, Lassiter spearheaded the renovation of the college's auditorium and initiated upgrades of facilities for ADA compliance. He oversaw infrastructure upgrades for a state-of-the-art HVAC system, roof replacements for all campus buildings, and a total renovation to the historical Davis building (the first building on the campus which originally housed the college's administrative offices and classroom spaces). He also worked collaboratively with staff to start a six-week Weld to Work program recruiting students for the pilot class.

"Mr. Lassiter's commitment to serving on the Roanoke-Chowan Community College Board of Trustees for over a decade has been unparalleled. He has demonstrated outstanding leadership on the Board by serving as a mentor to new board members while simultaneously serving in a variety of leadership roles," continued Dr. Williams.

Other ways Trustee Lassiter contributed to the college include establishing the Ella Mae Lassiter Scholarship for Welders. As a Hertford County Commissioner, he and his fellow commissioners established the Commissioners' Scholarship in 2020 which awards ten scholarships each year. Lassiter, along with his colleagues at the Ahoskie Housing Authority, established a scholarship for residents of the Ahoskie Housing Authority who want to attend the community college. He also worked to create summer internships for college students at the community college.
He has served on the Roanoke-Chowan Community College Foundation Board for 12 years and supports fundraising efforts with donations. Lassiter will continue his role as Chairperson of the foundation.
Lassiter serves as an elected official in Hertford County as the Chairman of the Hertford County Board of Commissioners. In addition, he also serves on several state and community boards including the Roanoke-Chowan Community Health Center Board, the Ahoskie Housing Authority Board, the North Carolina Department of Transportation Peanut Belt State Board, the Ahoskie Planning and Zoning Board, and the Hertford County Partners for Progress Board. He played an integral part in the establishment of the Special Olympics in Hertford County.

He is an Elder of Ahoskie Soul Saving Station Evangelistic Center. He is married to wife, Kimberly, and they have three children: Andrea, Andre' Jr., and Moriah.
For more information about the Board of Trustees at R-CCC, visit www.roanokechowan.edu